Day Trading Benefits Exceed the Risks
Since COVID-19, most of us have been working from the comfort of our own homes. As we are slowly emerging out of the pandemic, people start returning to the office. For many going back is no longer appealing and they have been looking for other ways to make money. Day trading stocks or crypto is an excellent way to support yourself and can be done from any location. Some risks come with it, but the benefits of day trading could outweigh them if you understand the process.
What is Day Trading?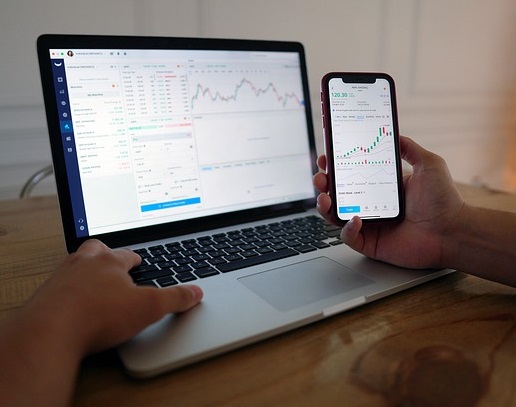 Trading is the act of buying and selling stocks, cryptocurrencies, ETFs, bonds, etc., to make money. Day trading is when the above shares are bought and sold within the same day. Day traders take advantage of small changes in price throughout the day and buy and sell based on these fluctuations. They must pay attention to the news and the ups and downs of the market to make sure their short-term investment will pay off. Day trading is a great way to make money fast, but knowing the risks and benefits is essential.
What are the Risks?
Any process involving quick thinking and unforeseen circumstances involves risk. Day traders need to understand these risks before going into this practice. If a day trader does not understand the market, then they will not be successful. A person has to have a sound mind and be able to make split-second decisions. If they cannot, then they could lose significant amounts of money from their investments. People engaging in day trading must look out for scams and price fluctuations. If they are unable to do this, then day trading is not the best investment to make. Plus, there is always a chance for drastic changes in the market to happen unexpectedly. Day traders need to be willing to take this chance and understand that they will not succeed if they do not do enough research.
Taking the Chance
Although there certainly are risks, there are many benefits of day trading, as well. The obvious best outcome is making large amounts of money. Once you learn your way around, day trading could be a "get rich quick" situation. Another benefit is the flexibility to work from anywhere. Also, you could work for yourself or get certified and join a brokerage. A day trader makes the decisions of what and when to trade by themselves. This autonomy is empowering and results in higher job satisfaction and fulfillment. As with any stock trading, the risks of a loss are high. A general rule of thumb is to only take risks that you can afford. Starting small, trying out different strategies, learning a lot, and making smart investment decisions could make you quite successful in pursuing this lifestyle.
Read this article to learn how you can get more involved with day trading.