Metaverse Office is Expanding the Physical One
We all know how hard it was to go to the office once COVID-19 hit. Most of the offices got closed and people had to work from home. Virtual meetings became the norm, and ever since this change, people still choose to work from home. With this increase in hybrid or virtual work models, new methods of communication have become more prevalent. The metaverse has allowed for an exciting and new virtual work environment. Many metaverses, one being Tangra, a metaverse by Simply Flows, have created a virtual space for people to meet, collaborate, and perform various business functions. The metaverse office brings unique benefits for knowledge workers.
Reading time: 5 mins | Published on: 4/18/2022
Functions of the Business Metaverse
The metaverse office allows you to meet with coworkers anywhere, anytime, and in any place. This technology is revolutionary and paves the way for the future of work. The Tangra metaverse will be used as an example to show all the amazing benefits that come with the virtual reality office.
1. Personalized Meetings
When meeting on different web conferencing software, meetings are not that personalized. You can see one another only if their cameras are on. During these meetings, people could get tired and may not be very engaged in this 2D setting. However, in Simply Flows Tangra metaverse, you can enter this office with a personalized avatar. You can customize this avatar to look like you or be completely different, having its own unique style. Once everyone enters Tangra, the avatars can interact with each other. This creates a better experience for everyone involved because people worldwide can physically interact with each other in this 3D setting. You can walk around, sit, interact with the environment, and talk with one another in this office setting. Instead of feeling detached, the metaverse office will make you feel connected again.
2. Water Cooler Chats
Say you are an international employee. It can be a drag to sign on and meet people at later or earlier hours because working times do not overlap. The metaverse office makes this process less tedious. You can sign on and meet with your coworkers to chat about a project or just catch up. By being able to see one another's avatars, the experience is much more enjoyable for all parties. Additionally, such interactions help better include those who remain virtual. We've brought the iconic water cooler chats to Tangra. Just bring your own water bottle.
3. Events
Companies can host various events in the metaverse, one being job fairs. Jobs fairs are a great way to meet people and determine if they are a good fit for a company. However, in person meetings are hard or impossible during a pandemic. Therefore, an organization could miss out on a great match. Also, international applicants may not be considered for jobs outside of the country where they reside. All this will change in the metaverse. Host job fairs in this new space and find the best talent. The metaverse office opens up tons of new opportunities for employment that people previously could not attain.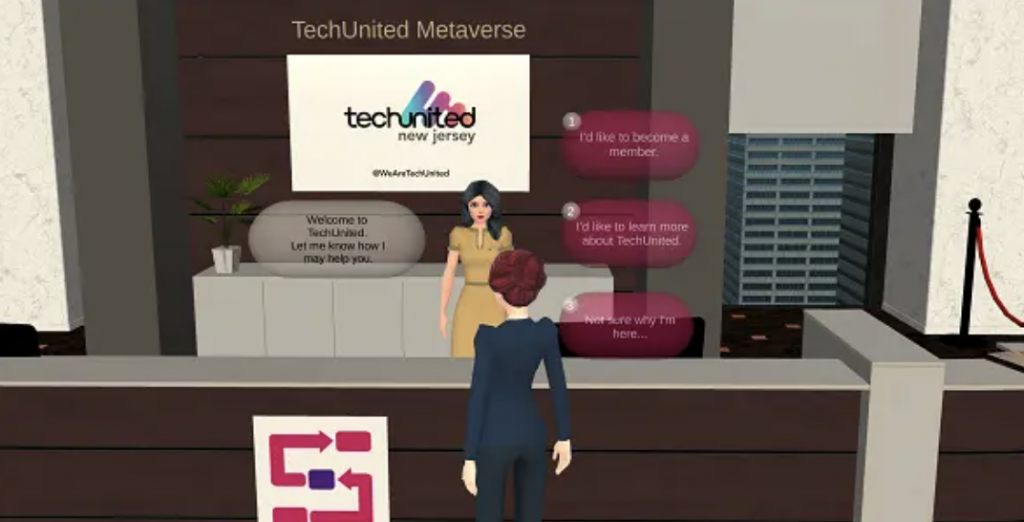 What Makes Tangra Unique?
Simply Flows metaverse Tangra is unique because it offers more than these essential business functions. It is the first and only metaverse to have virtual assistants. You may be wondering what are virtual assistants? They are computer-generated avatars that help you with different tasks. In Tangra, you see an office assistant right after you enter. She can help you with additional inquiries and direct you to where you need to go efficiently by speaking to you. Looking to find out more about what Simply Flows product has to offer? The virtual assistant will take you to their product page. Want to sign up? She will point you to the visitor book. Workflows can be made through these assistants to program what you need to do conveniently. Tangra brings virtual assistants to life and humanizes your experience with AI.
Will this Technology Replace In-Person Offices?
Obviously, a lot can be done in the metaverse office space. However, this technology will never completely replace the in-person office experience. It is an excellent addition for more personalized communication when working from home or a distance away. Brick-and-mortar offices have been around for a long time. Some people just prefer them or do not have proper conditions to work from home. Others like being home but will use the metaverse to feel like they are not alone. Overall, the metaverse will not replace the in-person experience. It will be a suitable replacement for those who want a better online experience when working.
In Tangra: host or attend meetings, do presentations or trainings, and utilize our virtual assistants to offer better experience to your customers. Learn more or book a demo today!