As a remote company, it can be hard to connect in a meaningful manner. People can join virtual meetings and interact with one another, but this communication is not always seamless. So, how could a remote company become more interactive with its employees? With Simply Flows Metaverse Tangra, their main goal is to deliver features to your remote company that the virtual world can not. In this article, you will learn more about the features of Tangra, including their virtual assistants. Remote companies would enjoy their experience more through this business metaverse's unique offerings.
Reading time: 4 mins | Published on: 5/10/2022
Can't do it Over Zoom
Different functions can be done over various web applications and through virtual meetings. However, the lack of engaging communication can harm remote companies. Tangra goes beyond just connecting people. It does it in an immersive and inclusive way. That makes it an exciting virtual world to explore.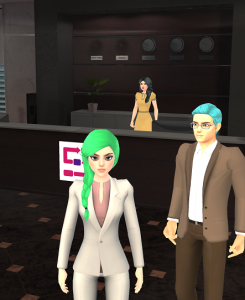 Now You See Me
In virtual meetings, you can see one another depending on camera functionality. Sure, it is nice to see your coworkers, but it may not always happen. This can make the remote experience dull and uneventful, leading to a loss of focus. In Tangra, you have exciting and customizable avatars that can engage with others. Once you permit your computer to have access to your microphone, you can chat with coworkers in this world. In fact, this would increase engagement because everyone would be present in their unique ways. Tangra takes away the issue of lack of personalization in a remote company and instead makes it a fun virtual working environment.
Daily Meetings
To go off what we just talked about, daily meetings can be held in Tangra to help with concentration and engagement for employees. Bringing people into the virtual world, especially people from all over the world, where they can hear and see each other without issue, is good motivation to start the day. Having these meetings can also be impacted by the office environment. Instead of feeling isolated from everyone at work, you all can gather in the board room. There you can discuss plans for the day or utilize Simply Flows other exciting feature for Tangra, which is…
A Place for Presentations or Decorations
All around Tangra, there are black screens. When you interact with these screens, you can upload anything you like, as long as you have permission. Now you may be thinking this can be done on other virtual platforms. However, your remote company gets to post and leave these images up for as long as they desire. If there is an area where you just want some fun decorations, you can put up different artwork or something that expresses yourself. You can upload a photo or video presenting whatever material you want in places like the board room or other small meeting areas. Need to show a picture? Upload it to one of those screens and explain why it is essential to your coworkers. Having presentation space, as well as the ability to express yourself, makes engagement rates soar.
Virtual Assistants
Tangra already has a lot of benefits, but one of its most significant accomplishments is their virtual assistants. Virtual assistants are placed all around the office to help you with different needs. At the front desk, an "office manager" is there to greet you and to help you navigate the space. It can automatically schedule a meeting with a team member via the cool integration with Calendly. Another assistant is in an office pertaining to crypto and day trading. You can get all the news you need on these topics with ease. Rather than struggling with tasks, Simply Flows made virtual assistants to make your life and work as stress-free as possible.
Excitement for the Future
There are so many amazing benefits to the Tangra metaverse. It makes digital engagement easier for a remote company and brings together people from around the world. The hype behind this technology can bring excitement to coworkers. In an article on Insider about eXp Realty, these employees have only worked in a metaverse environment. It was made for their company and has held high levels of engagement because it is interactive, easy to use, and has a fun aspect to it as well. Working entirely in that virtual world has actually brought co-workers closer together. They are excited to visit each other while on a vacation or a trip to their peer's location.
Tangra's metaverse is unique. You can customize the avatars and the space to your company's liking. Presentations and interactions can be personalized and meaningful. Being a part of Tangra's business metaverse is the first step to creating an engaging metaverse for your remote company.